ACEs Aware Implementation with Intention Webinar Series
The ACEs Aware Implementation with Intention webinar series is designed to help California clinics implement Adverse Childhood Experience (ACE) screening and response. Through five live webinar sessions, experts will provide practical, step-by-step guidance, as well as resources and tools to help clinics move further along their ACE screening implementation journey.
Interactive features may include live-polling, audience response system, audio-video presentation, case-based content, and Q&A. Webinars will include links to resources, such as tip sheets, worksheets, and sample workflows.
Who would benefit from attending the sessions? Clinics that haven't started, may be thinking about starting, or have already started screening and responding to ACEs in primary care settings​.
For those just getting started, this series is meant to provide the concrete foundational guidance you need to set up your practice to screen for ACEs and respond to toxic stress in a thoughtful and intentional way​.
For those already screening, the information in this series will help you fill in any foundational gaps you might have in your screening implementation and help give you the tools you need to not feel stuck and to move forward​.
Webinar Series Schedule:
All webinars will be held on the fourth Thursday of the month from 12 pm to 1 pm.
Registration is required. Attendance at all webinar sessions is not required, although it is highly encouraged for clinics at the beginning stages of their ACE screening journey.
Continuing Medical Education credit will be available for each session.
Recordings of the sessions will be posted on the ACEs Aware website to the event webpage.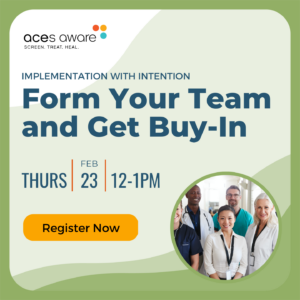 UPCOMING WEBINARS:
Webinar #2: February 23, 2023

Form Your Team & Get Buy-In
Webinar #3: March 23, 2023

Determine Who & How You Will Screen
Webinar #4: April 27, 2023

Prepare your Clinical Response
Webinar #5: May 25, 2023

Prepare Your Team & Clinic Operations
PAST WEBINARS:
Webinar #1: January 26, 2023

Getting Your Practice Ready