Announcements
New Data Report: 264,000 Medi-Cal Beneficiaries Screened for ACEs
This month the ACEs Aware initiative released "ACEs Aware Screening, Training, and Certification Progress: July 2021 Update."  This new data report details the number of Adverse Childhood Experience (ACE) screenings conducted in California between January 1, 2020, and September 30, 2020, and the number of providers who completed the "Becoming ACEs Aware in California" online training between December 4, 2019, and March 31, 2021.
Since launching the ACEs Aware initiative in December 2019, more than 17,100 individuals have taken the training and are ACEs Aware-certified, including about 9,700 Medi-Cal providers in California who are eligible to receive Medi-Cal payment for conducting ACE screenings.
Medi-Cal providers – primarily pediatric, family medicine, and behavioral health professionals – conducted about 315,000 ACE screenings of nearly 264,000 unique Medi-Cal beneficiaries in the first nine months of 2020.  Six percent of individuals had an ACE score of four or greater, indicating a high risk for toxic stress.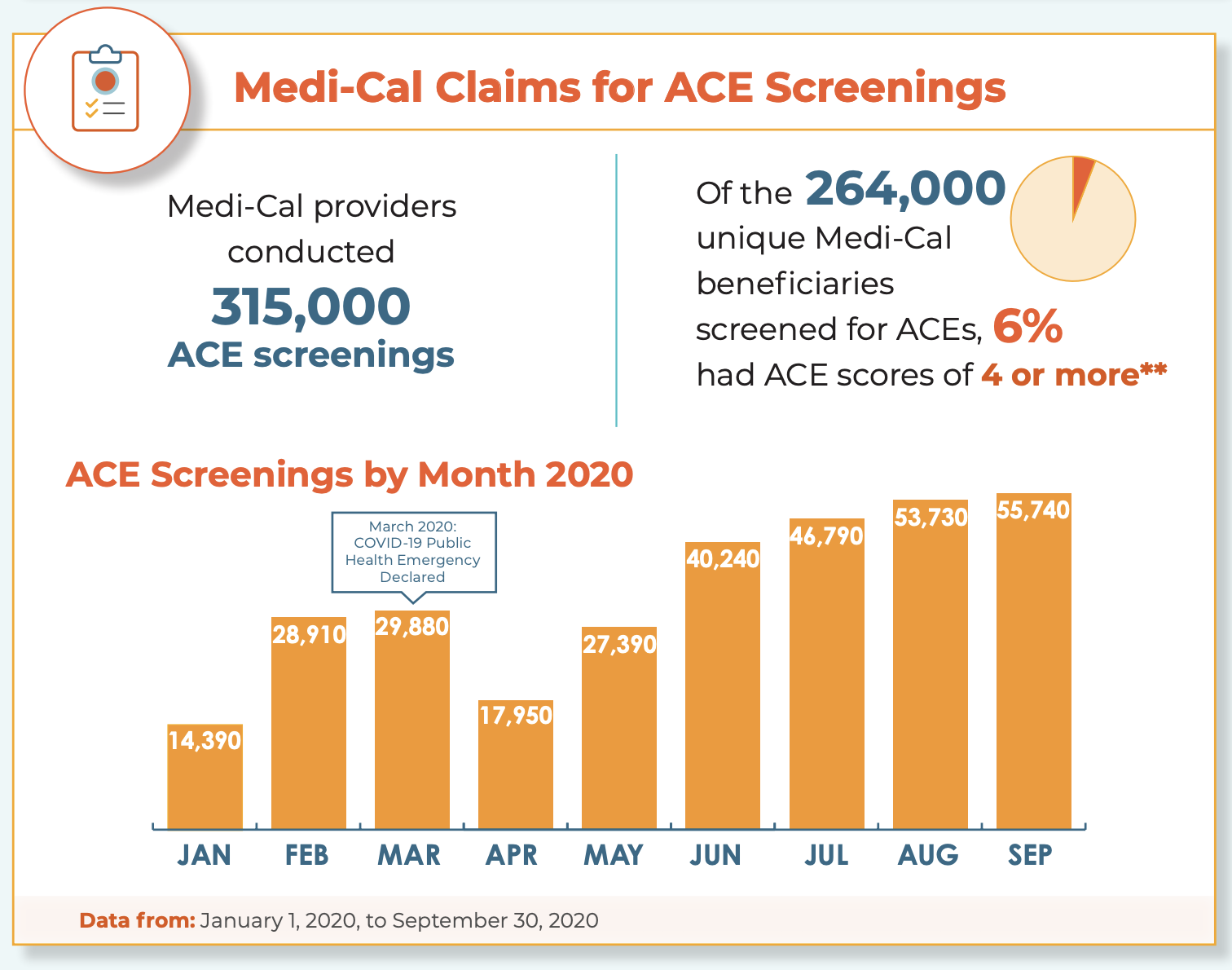 At this stage of the COVID-19 pandemic, we have an important opportunity to build awareness and understanding of the trauma and toxic stress that all of us experienced and take steps to address it. Our growing community of trauma-informed networks of care are already playing a key role in helping Medi-Cal providers identify, treat, and prevent the secondary health effects associated with ACEs and stress.
These trauma-informed networks of care are bringing together health care providers, clinics, community-based organizations, and social service agencies to support children, adults, and families in effectively mitigating the impact of ACEs and toxic stress through collaboration, referrals where needed, and committing to follow-up.
Download the full report and accompanying fact sheet below.